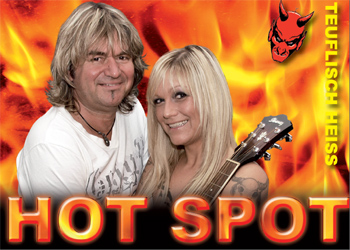 Wir haben uns entschlossen, für Events im kleineren Rahmen ab sofort im Duo als HOT SPOT 2

für Partystimmung zu sorgen.
---
Unser Programm wird dauernd aktualisiert und auf einen neuen zeitgemässen Stand gebracht

ROCK / POP

Addicted To Love (Tina Turner)
Black Horse & The Cherry Tree (K.T. Tunstall)
Fly Away (Lenny Kravitz)
Free Falling (Tom Petty)
Highway To Hell (AC/DC)
I Love I Love Rock'n'Roll (Joan Jett)
Like The Way I Do (Melissa Etheridge)
Long Train Running (Doobie Brothers)
Losing My Religion (R.E.M.)
Man! I Feel Like A Woman (Shania Twain)
Narcotic (Liquido)
No Woman, No Cry (Bob Marley)
One (U2)
Proud Mary (Tina Turner)
Rocking All Over The World (Status Quo)
Ruby, Ruby (Kaiser Chiefs)
Satisfaction (Rolling Stones)
Summer Of '69 (Bryan Adams)
Sweet Home Alabama (Lynyrd Skynyrd)
Talkin' Bout A Revolution (Tracy Chapman)
The Best (Tina Turner)
Walking By Myself (Gary Moore)
What's Up (4 Non Blondes)
Wonderwall (Oasis)
Zombie (Cranberries)
All Summer long
Give a little bit ( Supertramp )

OLDIES / COUNTRY

Achy Breaky Heart (Billy Ray Cyrus)
American Pie (Don McLean)
Bad Moon Rising (CCR)
Brown Eyed Girl (Van Morrison)
Cottonfields (CCR)
Country Roads (John Denver)
Hang On Sloopy (The Byrds)
Have You Ever Seen The Rain (CCR)
Hey Jude (Beatles)
Hotel California (Eagles)
I Will Survive (Gloria Gaynor)
It's So Easy (Linda Ronstadt)
La Bamba (Ritchie Valens)
Let's Have A Party (Wanda Jackson)
Looking Out My Backdoor (CCR)
No, No Never (Texas Lightning)
Que Sera (Hermes House Band)
Rama Lama Ding Dong (Rocky Sharpe & The Replays)
Ring Of Fire (Johnny Cash)
Stand By Me (Ben E. King)
Tequila Sunrise (Eagles)
Twist & Shout (Beatles)
Walking On Sunshine (Katrina & The Waves)
We Are Family (Sister Sledge)
Waterloo (Abba)

DEUTSCHE WELLE

99 Luftballons (Nena)
Aber bitte mit Sahne (Udo Jürgens)
Die Gefühle haben Schweigepflicht (Andrea Berg)
Die kleine Kneipe (Peter Alexander)
Du hast mich 1000x belogen (Andrea Berg)
Eisbären (Puhdys)
Es geht mir gut (Marius Müller Westernhagen)
Griechischer Wein (Udo Jürgens)
Großvater (STS)
Hallo Klaus (Nickerbocker & Biene)
Hände zum Himmel (Kolibris)
Heute Abend hab ich Kopfweh (Ireen Sheer)
I Am From Austria (Rainhard Fendrich)
Ich war noch niemals in N.Y. (Udo Jürgens)
Irgendwann bleib i dann dort (STS)
Irgendwie, Irgendwo, Irgendwann (Nena)
Joanna (Peter Wackel feat. Chriss Tuxi)
Lasso (Olaf Henning)
Major Tom (Peter Schilling)
Pure Lust (Geier Sturzflug)
Schickeria (Spider Murphy Gang)
Schifoan (Wolfgang Ambros)
Sexy (Marius Müller Westernhagen)
Skandal im Sperrbezirk (Spider Murphy Gang)
Über den Wolken (Dieter Thomas Kuhn)
Viva Colonia (Höhner)
Wenn Nicht Jetzt, Wann Dann (Höhner)
Westerland (Ärzte)
Wilds Wossa (Die Seer)
Willenlos (Marius Müller Westernhagen)
So a schena Tog (Döniggl)
Pur Hitmedley (Pur)
Weils´d a Herz hast wia Bergwerk (Fendrich)
I´am from Austria (Fendrich)
Dem Land Tirol die Treue
Zillertaler Hochzeitsmarsch
Almliesl Boarischer

uva.